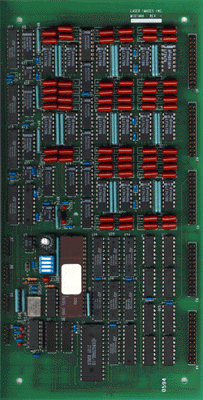 This circuit board is mounted in 1U rackmount enclosure complete with external connectors.
MIDIana™ Interface
Ever wish that you could control motors and actuators from a MIDI controller or MIDI sequencer? With this board, you can generate the control signals for lighting, synchronized water fountains, animatronics, or any type of motor, pump, solenoid, or actuator. Input control can come from any MIDI source such as a keyboard controller, sequencer, computer, tape interface, etc.

MIDIana™ has 64 analog outputs and 48 digital outputs. By configuring as separate instruments, sixteen units can be run from one MIDI source. Control the world with MIDI!

MIDI Input: Can be set to respond to MIDI Channel 1-16.

Analog Outputs: 0 to10 VDC (16 12-bit / 48 7-bit into a 2K-ohm load).

Digital Outputs: 48 open collector outputs (30 VDC max).

(All output signals available on five DB-25 male connectors on rear panel.)

Size: 19" rackmount, 1.75" (1U ) high, 10" deep.

Power Requirements: 100-240 VAC @500 mA (max).