Laserium's Origins
| | |
| --- | --- |
| | Here Ivan Dryer gives a brief history of the beginnings of LASERIUM, and lets fly his own imagination about additional forms of entertainment to which we can look forward. |
---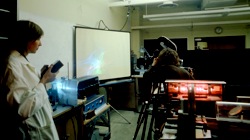 In the summer of 1956 an aspiring young astronomer joined the staff of the Griffith Observatory and Planetarium in Los Angeles. Fourteen years later, I was still aspiring--but to be a filmmaker--and was then introduced to a laser for the first time. I had gone out to Caltech to film the off-hours artwork of laser physicist, Elsa Garmire. When the laser turned on so did I. I immediately knew where and what to do with it.
Within a month, in December, 1970, a simple demonstration was given by the two of us to the Observatory staff. It would be for a one-hour live show with alternately filmy and neon-like laser patterns projected among the stars of the Planetarium sky. It would be called LASERIUM ("House of the Laser"). The staff people liked what they saw ... but not enough. This was entertainment, not science. We were outsiders. The banks felt somewhat the same way. A one-hour show of abstract patterns of light with music? No story, no characters--no track record? No dice.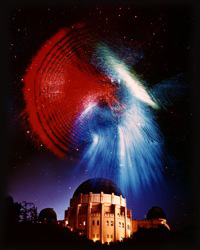 Three years later, a one-watt Krypton laser was borrowed for another demonstration at Caltech. Over a hundred people were invited. Only two showed--but they were the new Director and Head Lecturer at Griffith Observatory. A permit was issued for a test run, beginning with our world premiere on November 19, 1973.
My new partner, Charles McDanald, and I finished building and installing the Krypton laser projector at 5:00 a.m. the morning of the premiere. At 8:00 a.m. I appeared on a local TV show, and at 11:00 a.m. we held our press preview. It was also our first rehearsal, and it was terrible. Nonetheless, that evening 700 people came to see what this LASERIUM was about.
At the conclusion of our four-week test period we were turning away 500 a show. (So much for the banks.) Since then, approximately twenty million persons worldwide have experienced one of what now number forty LASERIUM shows, featuring rock, classical, jazz, and synthesized music, alone and in combination.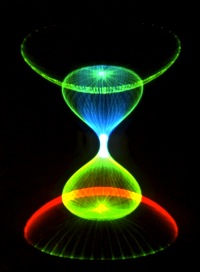 Because the laser colors (red, yellow, green, and blue) are so pure, the images appear three-dimensional and seem to be almost alive. The essentially abstract nature of LASERIUM allows the audience to participate with their imaginations in helping create their own experiences. That, combined with the element of a live performer responding to audience feedback, makes for a lot of repeat customers--the LASERIUM experience has always been unique.
Arts Magazine proclaimed in 1978 that "within LASERIUM ... lie seeds of what will become the high, universally acclaimed visual art of the future." While our classical show, The Rainbow Cadenza is certainly an heir to that statement, I have always considered our shows as entertainment, mass entertainment, "environmental" entertainment.
It is my opinion, and my dream, that future entertainment forms will build on LASERIUM's environmental approach. With the advent of the scale, diversity, and technological quality that home entertainment, especially virtual reality, will offer in the next decades, the public will be coaxed to leave their personal media centers primarily for communal multimedia spectacles that are unreproducible at home.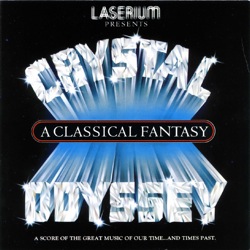 Our first multimedia production was an all-classical show with a story narrative called "Crystal Odyssey" in 1980. Now we are preparing our second such outing in Cyberquest: An Internet Odyssey, which will fill the entire planetarium sky with far more complex laser animation than heretofore possible. It will also feature ChromaDepth 3D, video, a taste of interactivity and a major celebrity.
The next wave of this "new entertainment" may be manifest in interactive multimedia environments using dome or IMAX-size screens, 3D lasers and large-frame film or laser video projection, indoor pyrotechnics, smoke, fog, the kitchen sink! Via joysticks or other individual controls, the audience members will finally get to have their own say about the size, shape, color and motion of the images. The results will be fascinating studies in chaotic dynamics and group mind.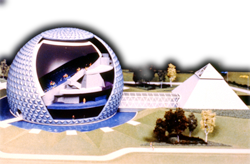 Someday may come the "Media Temples," state-of-the-art domed multi-media theatres such as our Pyradome design, featuring all of the above and more. But even these will fall short of the promise of Holography: laser-generated, true 3-D images.
Sometime in the next 30 years (and 300 years before Star Trek's Holodeck) someone is likely going to come up with the technology to produce the "Holos": three-dimensional objects projected in mid-air, with such apparent solidity and resolution of detail that they seem to be "The Real Thing." Hooking their Hologenerators to their then vastly powerful desk-top (or vest-pocket) computers, people would be able to synthesize any person, and re-create any event at any place they desire.
What we're talking about now is the creation of new realities, indistinguishable from the old one we now share, at least in their verisimilitude. We can only surmise what would be the impact on our social structure and institutions. In my view, the ultimate environmental entertainment would be the Holosphere, a huge experience sphere in Space at near-zero G. You jump away from the slowly rotating perimeter toward the weightless center. You fly, unfettered (an ancient dream in itself). The Hologenerators are activated, each responding to telemetered feedback from you and your fellow Holonauts.
As your thoughts go, so do the images forming around you: you soar among the mountains of the moon, into the clouds of Jupiter, and through the rings of Saturn. You journey beyond the edge of the galaxy to view its immense pinwheel filling the sky. You venture into its central black hole, into another universe? If you so will it--it is anything you want it to be. (As real as the chair you're sitting in now.) How do you get back?
Do you want to?!!
---
Laserium Archive
Back to home page